At the moment, YouTube is testing a global strategy to combat ad blockers. The massive video platform is hoping that this action will persuade its free users to upgrade to paid subscribers. Please read on for more information.
YouTube Premium is must for An Ad-Free Experience in web browsers
According to a post by Reddit user Reddit n Me, YouTube will now disable ad blockers if they are found. As part of a "3-way strike," YouTube will warn you three times and nudge you towards switching to YouTube Premium if an ad blocker is found. Your access to your current video will be immediately terminated if you don't comply. You will also be restricted to 3 videos on the platform. Your access will then be restricted. If you don't already use an ad blocker, this doesn't apply to you.
It's also vital to remember that the current strike isn't yet open to the general public. It has only been made available to a restricted number of individuals worldwide and is still undergoing internal testing. This has also recently been confirmed. But this implies that a public release might be coming soon. If this happens, you might have to pay to use YouTube without being interrupted by ads.
If you are thinking about getting YouTube Premium during the wake of this strike, it's important to know the pricing options. You can choose to pay Rs 139 per month, Rs 399 for three months, or Rs 1,290 for 12 months. With YouTube Premium, you will be able to enjoy ad-free video playback and ad-free access to YouTube Music, background playback, and the ability to download videos for offline playback.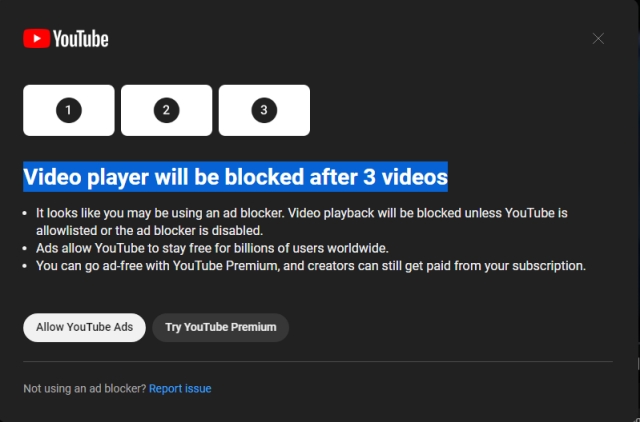 The warning will appear in the form of a pop-up window. It will urge you to either "allowlist" YouTube, disable your adblocker, or sign up for YouTube Premium. After that, your access to the platform will be revoked. However, it is unclear how long the strike will last. Will it be for 24 hours? Will you be able to access YouTube via VPN? Will it be a permanent ban unless and until you either disable your ad blocker or sign up for YouTube Premium? We do not have that information yet. Hopefully, YouTube will shed some light on this soon.
Ref: Beebom
Also read: Genshin Impact 4.0 Fontaine: Release Date, Leaks & Characters