For Android users, the Google Play Store is a veritable gold mine of apps and games. Finding new apps to install by scrolling through a sea of recommendations may be rather intimidating. The Play Store already provides app recommendations in the form of card-like carousels to assist you in your search. Also, the Google Play Store is now using YouTube Shorts for better app discovery as short videos become the latest trend.
Get App Recommendations via Shorts in the Play Store
As per the official blog post, the company wants you to watch "short app-centric" videos to help streamline your choices on the platform. These videos dubbed The Play Report will showcase a series of app recommendations from experts, creators, as well as Googlers. The content of the videos will range from trending apps and games to some super underrated choices.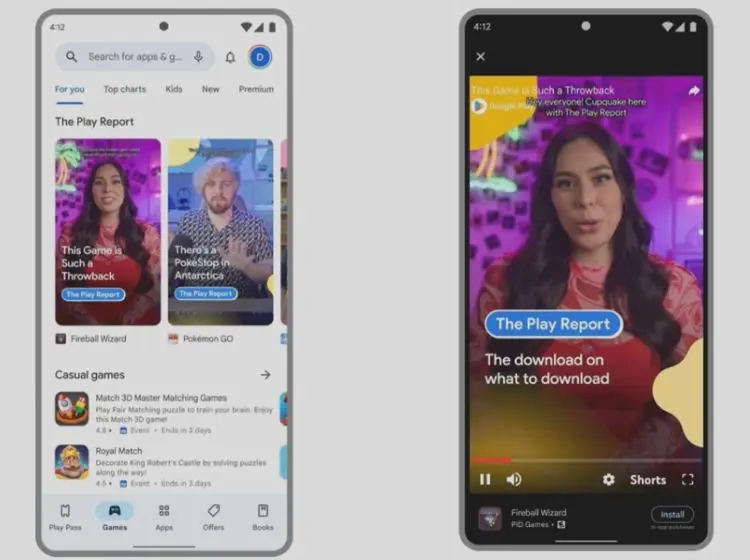 These videos appear to be a continuation of the YouTube Shorts. These new brief films will take the place of the Play Store's customary card-like editorial recommendations at the top of the homepage.
A Google-certified creator, expert, or other person will briefly discuss the features of the app or game once you click on a video. With the conveniently located Install button, you will be able to quickly download the programme directly from the video player if you choose to.
However, if you pay great attention, you'll notice that the word "Shorts" appears in the video player, indicating that this is an addition to YouTube Shorts and not a brand-new feature. Now, Google is only offering this visual upgrade through a pilot programme in the United States. If you are not a part of this experimental initiative, you can still watch films from the Play Report series by visiting the official Google Play Instagram, Facebook, and YouTube pages.