One of Vodafone Idea's (Vi) current prepaid plans has been enhanced to include a new feature that its customers will undoubtedly find valuable. This action has been done to provide useful advantages and incentives to its clients in an effort to keep existing clients and draw in new ones. Let's examine the particular plan in more detail.
Vi Rs 839 Plan: Benefits and More
You will now get a complimentary 3-month subscription to Disney+ Hotstar mobile when you buy the Rs 839 prepaid pack. That's not all, though! Also, you will receive access to unlimited calling for 84 days as well as a daily data cap of 2GB and 100 SMS each day.
There are also some perks that are unique. You can surf, stream, and share as much as you want, for instance, from 12 a.m. to 6 a.m., without your data pack being depleted, and it won't cost you any extra! Use the data you don't utilise from Monday through Friday by keeping it with this pack.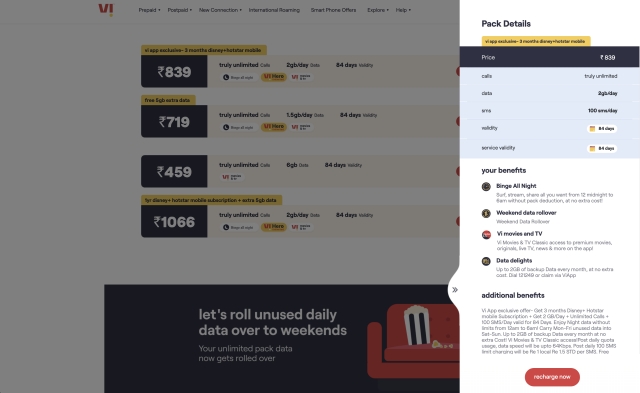 You can also request up to 2GB of backup data each month. A vast variety of Vi Movies & TV content, such as classics, originals, live TV, news, and much more, will also be made available to you. You are entitled to an additional 5GB of free data after using up your allotted amount, good for three days.
Both the Vi app and the Vodafone website offer immediate access to this set. If you want a Disney+ Hotstar subscription for a whole year, you can purchase a Rs 1,066 annual prepaid subscription.