Instagram has been competing with services like Snapchat and TikTok by releasing clones of such platforms that are arguably better and more well-liked than the original. The Meta-owned "social media" app has just unveiled the new Threads app, which (if done properly) has the potential to render Twitter a thing of the past. This is an attempt to apply the same concept and good fortune once more. So, do you want to start "threading"? Check out the app's complete information.
Instagram's Threads App Is Launched in India to Take on Twitter
Instagram Threads App: Details
In response to some prior suspicions and a recent Instagram announcement, the Threads app has made an official debut. The name is derived from the now-defunct Threads messaging app, which was Instagram's primary IP. The new software is text-based as well, but it continues the trend Twitter started by allowing users to publish thoughts and start conversations. Also, it will provide a platform for making significant announcements.
This is a standalone app, now available on both the Google Play Store and the App Store. While it can be a hassle for many, starting off can be very simple. Once downloaded, you can log in with the same username as Instagram (it's a one-tap process if you are already logged into your Instagram account) and you can also easily import all the data like the bio, profile picture, and username.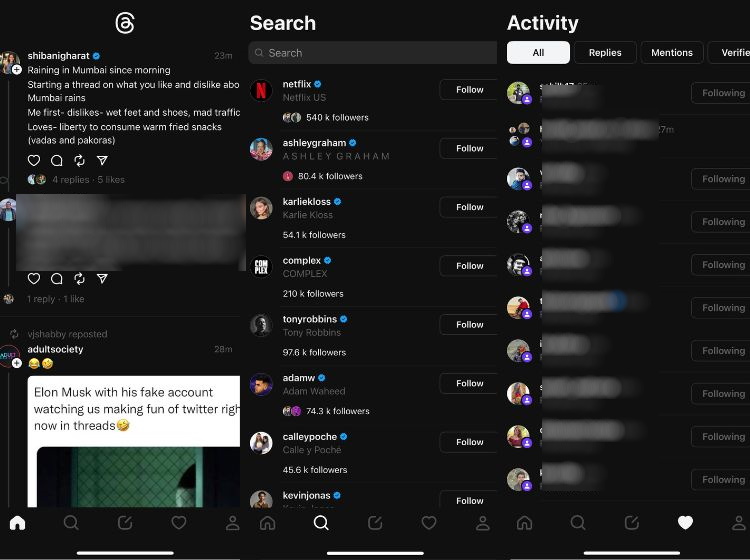 According to reports, ActivityPub, which is utilised by Mastodon, another Twitter alternative, will soon be compatible with the app. The user interface has four parts, including Home, Browse, Post, Notifications, and Profile, just like Instagram. Thus, getting acclimated to won't be an issue. That much is clear. The distinction is that you now receive posts that resemble tweets rather than images, videos, and Slideshows. Also, there is an Instagram shortcut in the Profile area that you may use to access the app if you want to view Reels, and users who have been Insta-verified will get a blue checkmark next to their name on Threads. I'm quite curious to find out the name of the tweet spin-off and whether we'll be called "Threaders." Please share any suggestions you may have with us in the
Similar to Twitter, every post on Threads provides options for liking, commenting, sharing, and reposting or quoting. Also, you can view postings from individuals you don't follow. I'm certain that the algorithms will function in a way to present pertinent information, and a future "On the List" feature may accomplish this. But, the feed is currently completely out of control and has a lot of posts from unidentified users.
The refresh system for the home page is also alike. If this takes off, well, I feel we might be able to leave Twitter behind, given the mess it has become since Elon Musk took over. Especially when there's a cap on the tweets (which can be bypassed by following this simple guide). Plus, the app has already gained 10 million installs, which is another indication that this might work for both Meta and the people.
Ref: Beebom