Fortnite has always checked all the boxes for gamers and nerds around the world when it comes to pop culture. Collaborations with characters from the Marvel universe, such as Moonknight, Spider-man, or the most formidable Avengers, were already on Fortnite's extensive list. A fresh Fortnite x anime cooperation, like the one with Jujutsu Kaisen, is nothing new, but having a history with Japanese manga and anime lovers.
The announcement is timely for the franchise as well as the fan base. The fifth episode of Jujutsu Kaisen Season 2 will air soon and will include Gojo Satoru's transformation and serve as a prelude to the impending Shibuya Incident Arc. Oh yeah, now is the ideal time to release the collaborative game.
Fortnite x Jujutsu Kaisen Skins Release Date
Many JJK fans wanted their favourite characters to be in the game, therefore rumours and speculations abounded before any official announcement of any kind. Who wouldn't want to play a game where they could take their favourite anime character's skin?
Epic Games posted a brief teaser on their official Twitter account on August 1. The four well-known Jujutsu Kaisen figures were shown visiting the islands and showcasing their charm and prowess. Gojo Satoru, everyone's favourite sorcerer, and his three pupils Megumi, Nobara, and Yuji are included in this.
Later that day, it was confirmed that Fortnite and Jujutsu Kaisen crossover was happening as soon as the v25.30 update. The Fortnite update with the Jujutsu Kaisen collaboration will go live on 8th August. So, are you ready to jump on the bus with your favorite Jujutsu Kaisen character?
Confirmed Jujutsu Kaisen Skins & Characters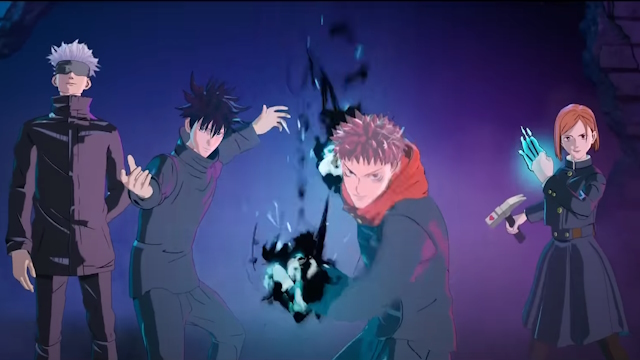 Gojo, Yuji, Megumi, and Nobara will all be playable characters in Fortnite, it is obvious from the teaser alone. Pickaxes and gliders have not yet been confirmed by the developers. Fortnite would not, however, compromise on the rarity of these skins' decorative components. If you know which skin you want initially, read our post on Jujutsu Kaisen's strongest characters.
Ref: Beebom