The global bosses are one of Diablo 4's most recent innovations that deviates from convention, and Ashava is one of them. There's a good possibility that if you've played the betas before, you've faced off against this enormous dragon. And unless you are highly skilled and have the necessary equipment, fighting Ashava is difficult. But fear not; once you reach world tier 3, you will confront Ashava for the first time and won't need to scramble to figure out how to deal with him.
Diablo 4 Ashava: Spawn Locations and Timings
Ashava follows the same pattern as the other global bosses in Diablo 4, which was previously discussed. I have encountered Ashava numerous times, and he has only ever specifically shown in five places. To understand more about the locations, see the map below. Before each boss encounter, a blinking logo on the map will indicate when the fight will start roughly. In Diablo 4, spawn at the adjacent fast-travel spot and ride your mount into the boss area.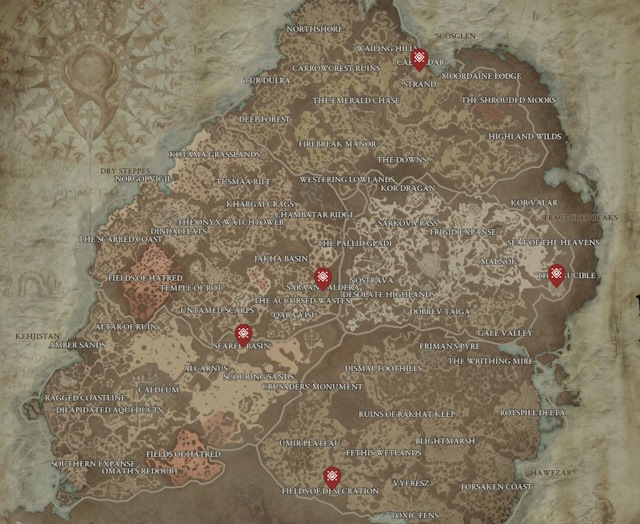 Timing-wise, it can be a little challenging to keep track of the precise times that Ashava appears. The three monsters in Diablo 4's world boss system rotate randomly and repeatedly appear every six hours. This implies that, if your luck holds, you may run into Ashava more than once in a single day if you miss it the first time.
There are many ways to keep track of when Ashava comes, thanks to the efforts of many gamers. We frequently utilise a Twitter account called Diablo 4 World Boss Timer as a fantastic resource. The timings of the boss' appearances are properly tracked by this account.
How to Defeat World Boss Ashava in Diablo 4
Area of Effect (AoE) and elemental poison assaults are Ashava's main attack types. Ashava executes a total of four attacks:
Step 1: The first is the common one, where the dragon slams the ground hard with its wings. Ashava does this right near his face. When you see the yellow outline appearing in front of him, immediately dash towards his belly.
Step 2: The second attack involves Ashava sweeping his wings across the field in a circular motion. Players that keep a distance from the boss will take damage from this attack. Dodge closer to the boss or away to safety to avoid this attack. However, we recommend dodging closer toward Ashava in this case, as that is much safer than dodging away.
Step 3: The third attack sees Ashava chomping at Diablo 4 players standing near his face. In this situation, dodge right under his belly. This is the safest place, and trying to dodge away is not only risky but also not worth it.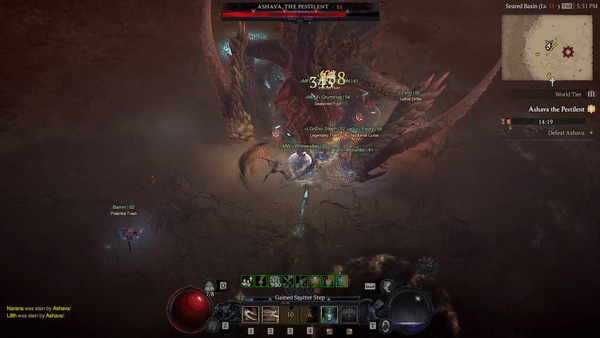 Step 4: Once you've reduced Ashava's health to just a quarter, the fourth attack will start. Ashava will exhale a poison mist that will combine to create five different poisonous pools at random. Standing on top of it will therefore steadily degrade your health. In the section below, we address how to solve this problem. For the time being, keep in mind to attack the dragon instead of the puddle. If you are unable to use ranged attacks, make sure to monitor your health and replenish it when it drops below 60%.
Step 5: In Diablo 4, Ashava's last attack uses both of its wings to do AoE damage in front of itself on the ground. Instantaneously, it will draw the wings towards itself, causing the gravel to rise in a straight line and harm players nearby. The best course of action in this situation is to sprint in the direction of the wings' flight path, through the centre. This shields you from any incoming harm, as demonstrated below.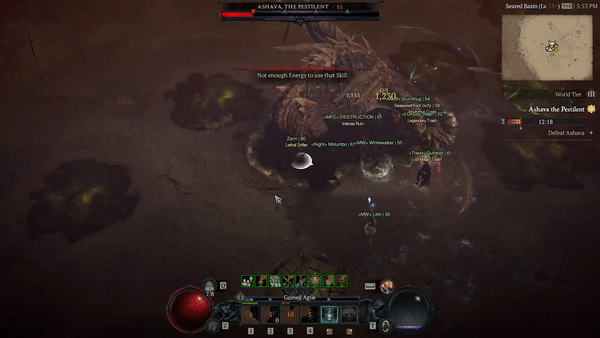 Being under Ashava's belly is the greatest strategy for dealing with it. In this approach, you won't be directly hit by the majority of its strikes. The poison puddles will be the only things that hurt you. Get some legendary gears and level them up at the blacksmith to handle these. In Diablo 4, you will frequently reclaim materials from this location.
We advise wearing a ring that increases your poison resistance as well as armour that increases your ability to receive healing. I utilise the Bonewave armour of Elusive Menace and Band of Corruption for my rogue to increase my resistance to poison. This gives it a minimum resistance of 45.8%. I also combine a variety of armour parts to boost my numbers. My attacks will be both stronger and faster as a result.
Rewards for Defeating Ashava in Diablo 4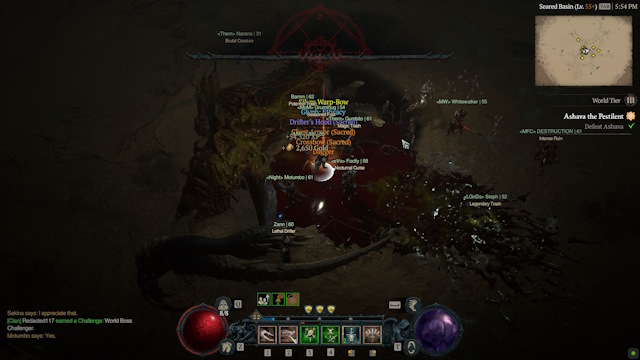 The game rewards you with some awesome goodies if you defeat Ashava, The Pestilence. Gold, which may be used to make purchases and level up, is the most frequent gift you will earn. Three precious pieces of gear make up the second guaranteed loot drop. These are greatly improved versions of current gear with higher stats.
If your RNG luck is high, you will receive a Glyph that you can use on the Paragon board. Typically the game drops magic glyphs. Finally, you will receive a legendary grand cache. This cache further drops higher-quality loot like legendary gears, gold, materials, and gems. The cache also drops Nightmare Dungeon Sigils, which help transform normal dungeons into Nightmare Dungeons.
Also read: 10 Final Fantasy 16 Side Quests Actually Worth Doing: Breif Info
Ref: Beebom