If you haven't yet purchased a home, your spacecraft in Starfield becomes your primary residence or, in some situations, your only residence. Naturally, just like at home, it enables you to stockpile anything, including illegal substances that you can smuggle or sell for Starfield. When you are weighed down or wish to maintain only the necessities in your inventory, spaceship storage can be useful. You'll soon learn, though, that all of your stockpiling has also completely filled the ship's storage. You will eventually reach a stage where you will need to expand the storage capacity of your Starfield ship.
Storage in Starfield comes in a limited quantity. Fortunately, Starfield lets you increase ship storage capacity in various ways. And in this guide, we explore all the options in detail here. So, if you are running out of storage due to overstocking, here is how you make your ship storage larger.
1. Purchase New Cargo Modules
The easiest way to increase the cargo space on your ship in Stafield is by swapping the existing one with a new one. To do that, follow the steps below:
Visit any of the in-game villages. New Atlantis is the simplest. We visited the Paradiso location.
Once at New Atlantis, talk with the Ship Vendor and select the option to upgrade your ship.
This brings you to the upgrading screen. From here, open the shipbuilder menu.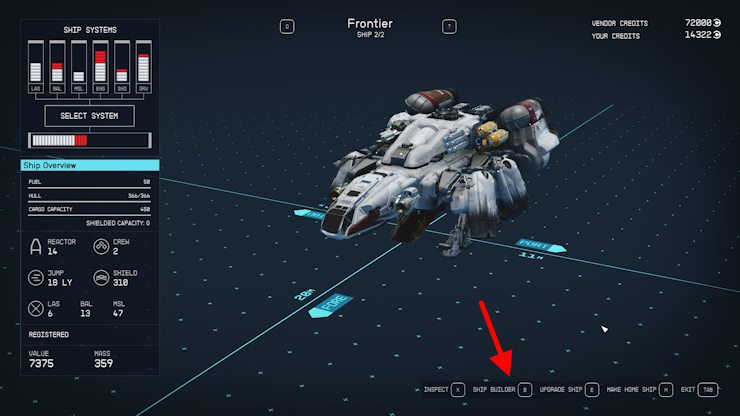 Ensure you have not highlighted any part of the ship, and then select the option to "ADD" ship parts.
To discover the "Cargo" option, scroll through the purchase screen on the right. Choose the one that best meets your needs here, then confirm.
According to our research, different planets have a variety of storage options. For instance, if you go to The Key while on Suvorov (one of the planets in Starfield), the seller will offer you shielded storage. For stronger upgrade options, you should also unlock the "Starship Design" talent. See the section after that for more information.
2. Upgrade the Right Starfield Skills
You can enhance your ship storage through the game's skill tree in addition to replacing your storage unit with a better one. You may find the talent "Payload" on the Tech skills tree. From level 1 to level 4, this skill adds a maximum of 50% more storage space to your ship. So, leveling up and obtaining this particular skill will benefit you in the long run.
Also Read: How to Install Starfield Mods (Guide)
Outside of this, as mentioned above, you need to upgrade the "Starship Design" skill to purchase better storage units. Maxing out in that skill gives you access to experimental parts.
3. Buy a Ship with a Better Storage Unit
The easiest way in-game is how you can expand your ship storage in the final step. You can buy a ship with a larger storage capacity than yours from any shipping seller if you go there. There are many ships available at various pricing points. Thus, pick the one that best matches your needs, but make sure you can claim credit for it. If you don't want to deal with the headache of shipbuilding and want to acquire a new ship, this should be your last resort.